A creative home meets the minimalist baby book
A creative home meets the minimalist baby book
Dennis' and Anna's home is a mix of a lot; of old, limited collections from IKEA, and of homemade ones. "If you have a big budget, it's much easier to design a beautiful home – but also maybe more boring. With a small budget, there is often only the hardware store and a spray can, but it is also a lot more fun." – Anna & Dennis
Hi guys, thanks for letting us stop by at this lovely and creative home you live in. It feels like you are a super cool family, please tell us a little bit about yourselves!
Welcome, so nice to have you here! We are Dennis and Anna, and we've been a couple for 17 years. We live with our two children Karlo and Tilli in Cologne. We both work at IKEA , where we are very happy and where we get outlet for our creativity. But we let off steam creatively through many other projects, our home is one of those. This is also the case with our small label Gypsybird_Handcrafted for which we both produce small editions of leather products together.
Your style is really personal and on point – how did you end up with this style in your home? And who of you gets to make most decisions regarding what your home should look like?
Our home is an ongoing process. Since Anna travels a lot, both professionally and privately, she often brings a lot of new inspiration with her back home, and if it suits us we just try it out. In addition, we have been living in this apartment for many different stages in our life, so the apartment has also developed differently during the years.
In order not to lose all of your hair between home office, business calls, childcare and the everyday madness of the family, we need a cozy, cozy home. A home that we keep remaking. It's a kind of therapy and we always enjoy trying new things.
We want it to feel warm and get you in a good mood with small, colorful details. It's a mix of a lot; of old, limited collections from IKEA, and of homemade ones. If you have a big budget, it is much easier to design a beautiful home – but also maybe more boring. With a small budget, there is often only the hardware store and a spray can, but it is also a lot more fun. We like many things equally, one more today, the other tomorrow. Maybe it's such a mood thing.
Your kids, do they also have an interest in interior design and creativity?
The children notice immediately when we have changed something and also let us know if they like or don't like something. Furniture is basically there to played with and integrated directly into the game. Our kids naturally express themselves creatively. We have a huge range of materials: Paints, crayons, cardboard, beads, clay, upcycling or tape - we think it's important that they feel free to use these things any time they want to, so the shelf in the kitchen is freely accessible at all times. Karlo loves art. He would happily do it from the second he wakes up. He finds drawing so therapeutic. And Tilli is on the same track as her brother. We have two very different kids, but we see that being creative in art brings them together.
Of course, we also encourage creativity in every form, as we believe that every child naturally has creativity within them, and you just have to encourage it.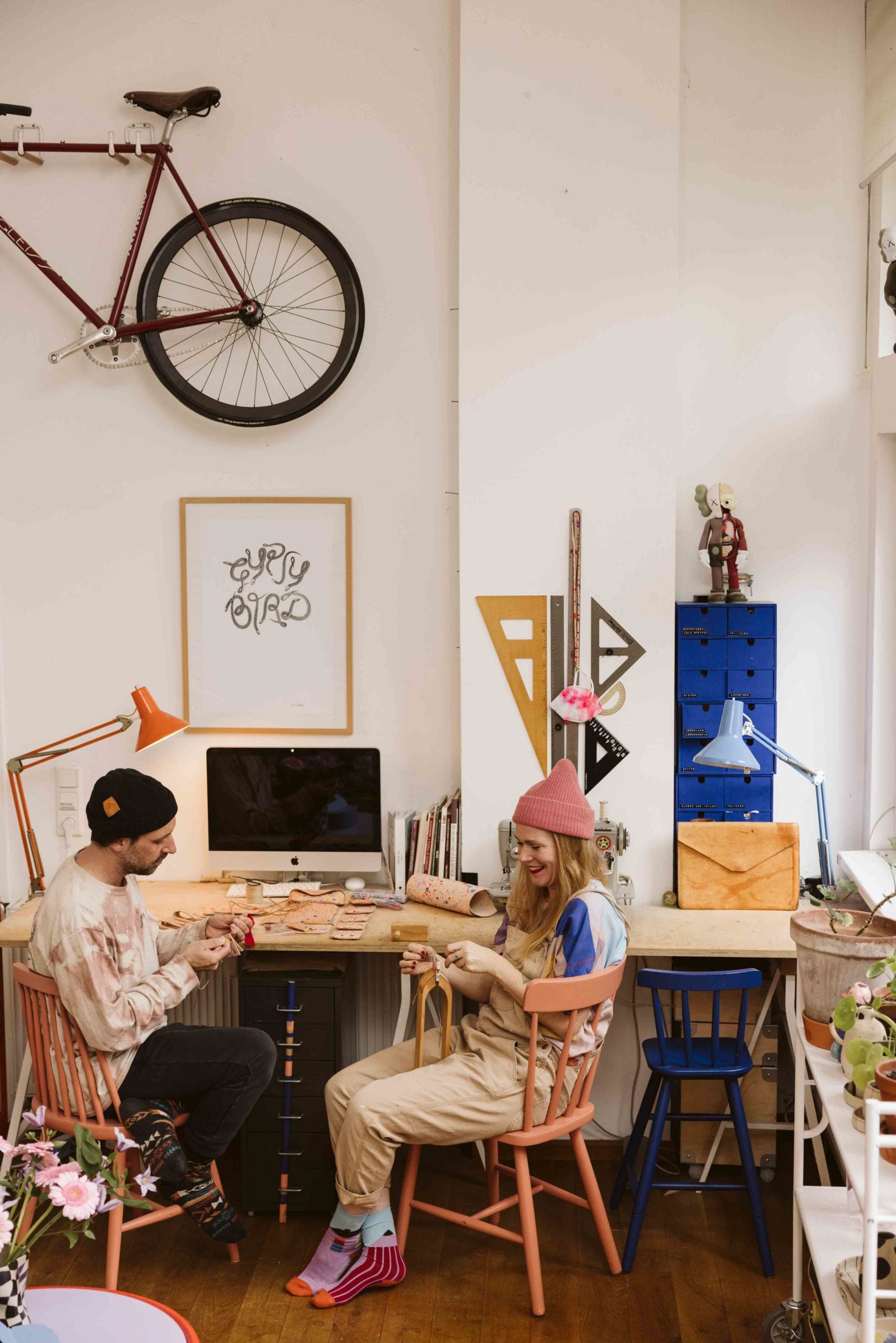 Creative corners all around the place. This is where the leather goods for Dennis' and Anna's brand Gypsybird Handcrafted are made.
"We believe that every child naturally has creativity within them, and you just have to encourage it."
Is there something that you would never ever let in to your home? (interior-wise)
Probably a TV. I always find them superfluous and not beautiful either. And wall clocks. We've never seen a nice enough one, and they always trigger us.
If you would guess what kind of career your kids would choose, what would it be?
Oh what an interesting question... And hard to answer, but we could take a guess. Karlo has very good fine motor skills and is very sensitive with his hands - so he would be able to do something small and fine. He could be everything from a piano maker or a watchmaker to a surgeon.
Tilda is a small, socially empathic being with a great sense of justice. She is very sensitive for mood vibrations. Also, she only does things that she really wants – she will go her way either way. Definitely something social or something brave.
Actually, we would want to give our kids the same advise our parents gave us... namely do what makes you happy.
What advise would you give other families that want a more creative home?
Trust your gut feeling! There is no wrong way of doing things, just find out what makes you feel good about a place, a room or a home. Try and try again! Be brave, play with colors – if you don't like it then you change it again. It is also really good for the soul to keep an open mind, keeping your curiosity and creativity going.
"Try and try again! Be brave, play with colors – if you don't like it, then you change it again."
And one last question, about your home town Cologne. If we were to visit your city, what are your top 5 things to see or do?
Oohh only five? That's a challenge, but let's give it a go:
Our favorite street the Körnerstrasse is right around the corner from us. The Körnerstrasse is peppered with nice shops, cafés and places to eat. Breakfast in the Café Sehnsucht, lunch in the market hall and a nice coffee in the Zwoo Kaffeerösterei. In the evening we go for a glass of wine in the IMI Winery. In the market hall you can buy everything you need for my second tip at Atila´s Butchery.
The best thing about Cologne is that you can reach everything by bike. So the second tip is a bike tour from Ehrenfeld to the Rhine. Buy a beers at every kiosk and then grill in the green belt. Or, a longer bike tour and at the end unpack the grill on the Rhine and enjoy the sunset on the sandy beach in Rodenkirchen. We do that very often 🙂 For us, that is Cologne's culture.
If you're in the mood for really good food, go to Kouzina Marina. We are regulars and visit Marinos' guerrilla restaurant all year round. Marinos is the best host I know, Greek food is always delicious and always an experience. This is no regular restaurant, they only throw events on the weekend. Find out more at kouzinamarina.blogspot.de
My personal favorite shop is my friend Caro's shop GRÜNBLAUGAU. She is a truffle pig when it comes to finding new artists and unknown small labels. We share a passion for ceramics and so it is worthwhile either to visit her or to visit her online shop that she has just opened: gruenblaugrau.de
The most beautiful and relaxing beer garden in summer and a mini Christmas market in winter is definitely the one of "Bumann & Sohn" here in Ehrenfeld.
... ok, one last tip. When we need some rest from the hustle and bustle of the city, exhausted from work and school week, we go out into nature every weekend. Either in the Königsforst or in the Wahner Heide. We can all recharge our batteries there.
Thanks a lot guys, for letting us stop by!
Thanks for visiting, come back any time!
Hopefully, your readers are curious about us and our hometown by now! If so, you should definitely pay a visit to our Instagram profiles: An.na_teuchersson shares our creative life, you'll get a lot of interior and things we like as well. And Gypsybird_handmade for leather goods for everyone.
Photography: Lina Arvidsson
©Stacking stories / all rights reserved / 2022
---